Commemoration Committee for the Battle of Fort San Carlos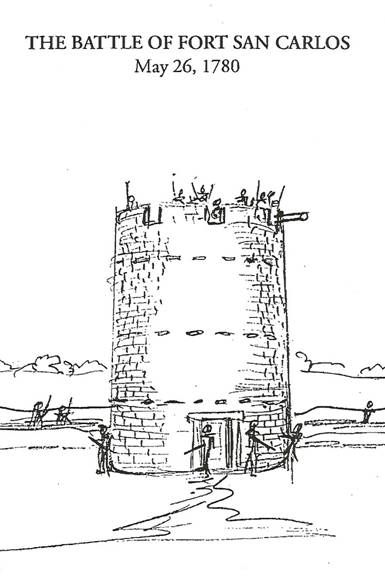 An American Revolutionary War Battle fought at Saint Louis, Missouri.
The members of the committee are people who are interested in the history of St. Louis, the history of the American Revolution, and simply history in general. Some members are descendants of the players in the saga of the Battle for St. Louis at Fort San Carlos. Many belong to such organizations as the Daughters of the American Revolution, the Sons of the American Revolution, the Sons of the Revolution, the National Society of New England Women, Daughters of Colonial Wars, Daughters of the American Colonists and the Landmarks Association. Several members are active or retired teachers of history, members of the Veterans of Foreign Wars and the Societe Francaise.
The Committee welcomes all people who wish to join our commemorative efforts. Affiliation with another group certainly is not necessary to offer valuable input to our efforts.
---
New! New!
2019 Commemoration Service Scheduled
The Commemoration Service for 2019 will be conducted on Sunday, May 19, 2:00pm at the Missouri History Museum located at Lindell and DeBaliviere in Forest Park with plenty of free parking. The program will be "George Rogers Clark". The speaker will be Dr. Ken Carstens, Professor Emeritis, Missouri State University, Springfield. Contact us for further information if needed.

The National Park Service has included the story of the Battle in the new Arch Museum in the Colonial Era section with a great deal of information which will tell the story to many who do not yet know it! There is a diorama and other information at the Old Courthouse downtown on permanent display and don't miss the wayside exhibit at 4th & Chestnut Streets across from the Old Courthouse. Be sure to visit it when you are doing St. Louis history activities!

All are welcome at the service, one does not need to be a member to attend.
---
Click here for a brochure on the Battle and the Committee.
Click here to order commemorative Ft. San Carlos Medals.
Join us in memorializing the twenty-two early St. Louisans who gave their lives in defense of our city in May 1780:
| | | |
| --- | --- | --- |
| 1. | Juan Colman | From Germany per 1776 census |
| 2. | Thomas | Possibly Thomas Tyler, a farmer from America; or Thomas Blondeau, a trader from Canada per 1776 census. |
| 3. | Otro que se haio | Means "another who was there." |
| 4. | Ignacio Larrosa | Ignace Laroche from Fort Chartres per 1776 census and 1779 St. Louis cavalry militia list. |
| 5. | San Juan | St. Jean, possibly Paul St. Jean, a member of the Ste. Genevieve militia and originally from Canada per 1779 Ste. Genevieve militia list; or St. Jean, member of the St. Louis militia per the 1779 St. Louis infantry militia list. |
| 6. | San Jorje | Member of the St. Louis militia per the 1779 St. Louis infantry militia list. |
| 7. | Vizete | Charles Bissette, a merchant from Canada; or Carlos Bizet, a farmer from Canada per 1776 census and 1779 St. Louis cavalry militia list. |
| 8. | Calbe hijo (son) | A son of Joseph or Antonio Calve, both of whom have a son; local legend says it was Joseph Calve, Jr., also in 1779 St. Louis militia list. |
| 9. | Pedro de Hetre | Possibly Pierre Deshetres, Pierre Picote Belestre per McDermott. |
| 10. | Daban Cur | Dubancour Barsalau, rower from Canada per 1779 St. Louis infantry militia list. |
| 11. | Francisco Huber | Francois Herbert, a farmer from Fort Chartres per 1776 census; or Francisco Herbert, a hunter from Illinois per 1779 St. Louis infantry militia list. |
| 12. | Gladie | Pierre Gladu, farmer from Canada per 1776 census. |
| 13. | Amable Guion | 1779 St. Louis infantry militia list. |
| 14. | Rel | Antoine Reihle, merchant from France per 1776 census. |
| 15. | Jean Marie Cardinal | On the prisoner list, but died trying to escape. |
| 16. | A slave of A. la Pierre | |
| 17. | A slave of Serre | A slave of Gabriel Cerre. |
| 18. | A second slave of Serre | Another slave of Gabriel Cerre. |
| 19. | A slave of Madame Chouteau | |
| 20. | A slave of Bonete | |
| 21. | A slave of Luis San Selier | A slave of Louis Chancellier. |
| 22. | A slave of Pierre Picote de Belestre | |
---
Contact Info:
Name:
Margaret Carr, President
Mailing Address:
FSC Commemoration Committee
The UPS Store #333
101 West Argonne Drive
Saint Louis, MO 63122-6119